Hello Friends!
On June 7th, Columbia Bottle Depot located on Kent Road, Kelowna reopened its center which is now powered by TOMRA technology.  A modern bottle depot center that features cutting-edge reverse vending solutions, automated counting and sorting systems and a faster, cleaner, and simple recycling experience!
Why?
The technology keeps bottle depot running smoothly as the machines are always up and running when customers are ready to return their empties.
The reverse vending technology ensures each valid container is sorted, counted, and scanned for accurate counting and payouts. It is faster as the recognition technology instantly detects bar codes and shape allowing users to insert containers rapidly in a continuous flow. Once the transaction is completed, the reverse vending machine prints a reimbursement receipt to be redeemed. Soon a cash machine will be installed for faster reimbursement. At Kent location, eight machines are ready to serve customers simultaneously. Meaning less queuing and faster. 
The technology also makes recycling easier and cleaner as there is no need for recyclers to presort their containers anymore. People of all generations love to feed the hi-tech machine and to watch it read the containers. The technology is fast and intuitive to use.
This technology also offers benefits for the bottle depot staff, as operations are cleaner and safer, while creating a more attractive job opportunity and better working conditions.
In BC, we are proud to live next to the ocean and the mountains, and we are serious about protecting the environment. By partnering with TOMRA, the largest supplier of bottle depot technology in Canada, our common goal is to facilitate the return of used beverage containers into a closed loop. The usage of technology helps to create a more convenient recycling experience to facilitate the return of empty containers into that closed loop making it possible to turn them into new containers. This leads to fewer wasted resources and less waste ending up in the ocean. It's really simple. The more containers we put in the Clean Loop Recycling system, the less we take from the planet. It's a loop of clean resource reuse.
Who is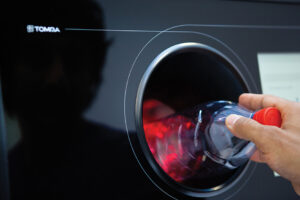 TOMRA Canada?
TOMRA Canada is the largest supplier of bottle depot technology in Canada with scalable and modular expert line equipment to meet the needs of bottle depots of any size, from facilities handling 5 million to 40 million containers per year.