Columbia Bottle Depots are proud to announce that our Kent Road depot is now fully automated!  This is a very exciting time for recycling as customers' experience will be faster and cleaner than ever before!
REVERSE VENDING MACHINES: 
When you walk through the front doors of our 1936 Kent Road, Kelowna, BC depot you will see eight reverse vending machines. 
A reverse vending machine is a machine where people can return empty beverage containers like bottles and cans for recycling. The machine gives back a refund receipt. 
This is what makes it a "reverse" vending machine: instead of the user putting in money and getting out a product (like at a candy vending machine), the user puts a product in and gets out a monetary value.  The reserve vending machine is safe to op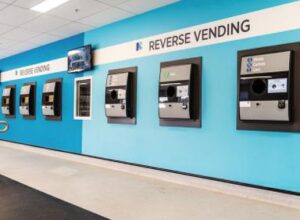 erate and intuitive with step-by-step guidance.
To make your visit even easier, please keep the labels on all of your containers and do not crush them in any way so that the label reader can easily process your material.     
Please go to www.mytomra.com to learn more about this amazing technology.